SEARCH
when you need our product,simply enter the name of the product you are looking for to continue.
Phone:0086-371-63838939
Email:sales@sunriserefr.com
Office Address: No.36 Fengchan Road Of Zhengzhou, Henan, China (Mainland)
Comprehensive Applications of Ceramic Fiber Products
Date:
2015-12-14 16:05
|
From:
Zhengzhou Sunrise Refractory
|
Author:
admin
Due to the high cost, currently ceramic fiber products are mainly used in industrial fields and seldom in the construction field. They are mainly used as the lining materials and insulation materials for the industrial furnaces fueled with coal, oil, gas and electric and heat resistant reinforcing materials and high temperature filter materials.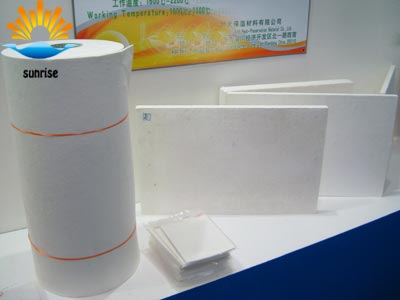 As the lining materials, ceramic fiber products can be used as the insulation lining of industrial furnaces, metallurgical furnaces, petrochemical reactors and adiabatic lining of the metal materials heat treatment furnaces and ceramic kilns. Currently the insulation lining structures include refractory fiber veneer lining, ceramic fiber board/blanket lining, refractory castable lining, prefabricated ceramic fiber module lining and refractory fiber spraying lining.
As insulation materials, ceramic fiber products can be directly used for the filling and insulation of industrial furnaces, expansion joints between bricks and insulation of aircraft jet catheters, jet engines and other high-temperature pipes. Besides, ceramic fiber can also be used for the insulation of long-distance gas pipeline.
In practical applications, raw ceramic fiber can be directly used for filling expansion joints of industrial furnaces, sealing and insulating furnace walls as well producing refractory coasting and castables.
Ceramic fiber board
is a semi-rigid plate-like ceramic fiber product with good flexibility. It can meet the requirements of construction and long-term use at room temperature and high temperature and is mainly used in the wall lining of industrial furnaces. due to its non-binder, mechanical properties and resistance to wind erosion, it is generally used in the hot face of industrial furnace and high temperature pipes.
Ceramic fiber blanket, due to its soft formability, can be used in various complex insulation parts. It can become a lightweight, surface-hardened and flexible insulation system after drying, which can withstand the wind erosion of 30m/s. It contains no binders and has good mechanical properties. It is widely used for the insulation of industrial furnaces and high temperature pipes.
Shaped ceramic fiber prefabricated components (ceramic fiber module) are mainly used to construct linings. They are easy convenient and fast to construct. Among the special shaped ceramic fiber products, ceramic fiber pipe shell has the largest consumption volume, mainly used in small electric furnaces, casting riser bushings and other fields.
Ceramic fiber paper is mainly used in the expansion joints, nodes of combustion furnaces and connection pads of the pipeline equipment. Ceramic fiber rope is mainly used as the non-load-bearing high-temperature insulation materials and sealing materials.
In addition to high temperature insulation materials, ceramic fiber board and paper can also be used as reinforced materials of advanced ceramics, metals and plastics and the insulation of catalyst carriers.
If you have any needs our help or are interested in our products, you can click online advisorychat with us online, or call our customer service telephone: 0086-0371-63838939. We will sincerely serve for you!