SEARCH
when you need our product,simply enter the name of the product you are looking for to continue.
Phone:0086-371-63838939
Email:sales@sunriserefr.com
Office Address: No.36 Fengchan Road Of Zhengzhou, Henan, China (Mainland)
What is Calcium Silicate Board?
Date:
2015-11-30 10:31
|
From:
Zhengzhou Sunrise Refractory
|
Author:
admin
Insulation
calcium silicate board
, also called porous calcium silicate board, is a white rigid insulation material with advantages of light weight, high strength, low thermal conductivity, high temperature, corrosion resistance and easy-to-cut.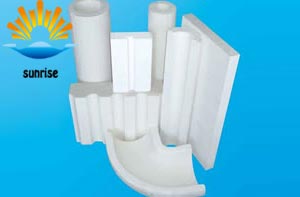 Ceramic Fiber Board is made of Alumino-Silicate fibrous wool by vacuum forming process. Calcium silicate insulation products are of a variety of shapes like plate board, curved sheet, pipe cover, and accessory products.
Calcium silicate boards, according to their composition, can be divided into two categories. One is common calcium silicate board. It contains 0.8 CaO/SiO2 and its main mineral component is tobermortie. Its classification temperature is 650℃. The other is xonotlite calcium silicate board. It contains 1.0 CaO/SiO2 and its main mineral component is xonotlite. Its classification temperature is 1000℃.
Ceramic Fiber Board has high strength and is the strongest one among the inorganic thermal insulation materials with the similar density. It has no deformation within the working temperature range and no Asbestos. It has low thermal conductivity compared to others, light weight and high temperature resistance with chemical resistance. Featuring easy-to-cut and easy-to-install, it is ideal insulating material for power plants, chemical plants, shipyards, refineries, paper mills, etc.
Calcium Silicate boards are recommended as excellent thermal insulation products, thus they are popular in power station, steel mill, petrochemical industries and furnaces of high temperature or high gas flow velocity as backing material of refractory bricks.
Zhengzhou Sunrise can provide two grades of Non-asbestos Calcium Silicate boards which are applicable to work environment ranging from 600 to 1,000 Celsius degrees.
If you have any needs our help or are interested in our products, you can click online advisorychat with us online, or call our customer service telephone: 0086-0371-63838939. We will sincerely serve for you!