SEARCH
when you need our product,simply enter the name of the product you are looking for to continue.
Phone:0086-371-63838939
Email:sales@sunriserefr.com
Office Address: No.36 Fengchan Road Of Zhengzhou, Henan, China (Mainland)
Development Of Ceramic Fiber Products
Date:
2015-10-10 14:32
|
From:
Zhengzhou Sunrise Refractory
|
Author:
admin
Ceramic fiber is a type of fibrous refractory material, characterized with light weight, high temperature resistance, good thermal stability, low thermal conductivity, low specific heat and resistance to thermal shock. It is widely used in many industries such as the machinery industry, metallurgy industry, chemical industry, petroleum industry, shipbuilding industry, electronics industry, light industry, aerospace industry and atomic energy industry.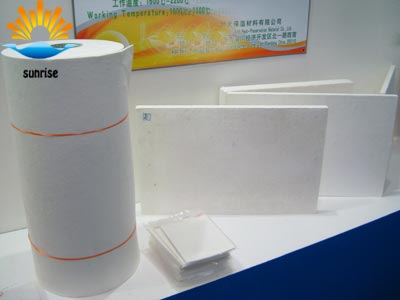 In as early as 1941, the Babcock Wilcox Company produced ceramic fiber by melting kaolin in a electric arc furnace. In the late 1940s, two companies in the United States manufactured aluminum silicate fiber and applied it in the aviation industry. In the 1950s, ceramic fiber was formally put into industrial production. In the 1960s, a variety of ceramic fiber products were developed and began to be used in the lining of industrial furnaces. After the global energy crisis in 1973, ceramic fiber, especially aluminum silicate fiber, gained rapid development.
The United States and Canada are the two largest producers of ceramic fiber. The annual output of ceramic fiber products is 300,000 t in 2000 and has increased to 640,000 t in 2006, 1170,000 t in 2010 and 1384,000 t in 2013. Among the annual output of ceramic fiber, the proportions of different ceramic fiber products are as follows: 1) blanket and fiber module 45%;2) vacuum forming plates, carpets and shaped products 25%; 3) cotton bulk fiber 15%; 4) fiber rope, cloth and other textiles 6%; 5) unshaped materials 6%; 6) fiber paper 3%.
With the increase of the production capacity of ceramic fiber products, many new products have been developed. In addition to typical ceramic fiber products such as 1000, 1260, 1400, 1600 and mixed fiber, ZrO2, Cr2O3 and other ingredients are added into ceramic fiber products to increase the maximum operating temperature. Besides, some manufacturers have developed a variety of new products, such as soluble ceramic fiber, high-strength ceramic fiber containing 62%-75% Al2O3 and high-temperature ceramic textile fiber, by adding ingredients such as CaO, MgO.
Ceramic fiber products are in the form of blankets, boards, bulk, module, vacuum-formed or cast shapes, paper, and textiles (cloth tape, rope and yarn). Due to advantages such as light weight, good thermal shock resistance and high strength, they have found widely application in many industries. Ceramic fiber products are mainly used in processing industry, heat treatment industry (industrial furnace, heat treatment equipment and other thermal equipment) and iron and steel industry, which consumes 25% ceramic fiber products.
If you have any needs our help or are interested in our products, you can click online advisorychat with us online, or call our customer service telephone: 0086-0371-63838939. We will sincerely serve for you!